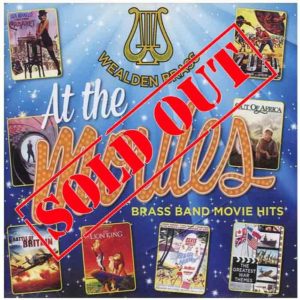 In 2016 Wealden Brass released a CD. Although not our first endeavour into pre-recorded media, this was our first into the digital world in the form of a compact disc and contains tunes from such iconic films as Battle of Britain, James Bond (From Russia With Love, Goldfinger, You Only Live twice), Out of Africa, Zulu, Blue Hawaii, Cabaret, The Lion King and others. Sales progressed well and all copies have now been sold.
A sample of each track is included in the links below. Just click on the track title of the piece to which you wish to listen and the recording will start.
UPDATE 31 March 2018 – Following hot on the heels of our first very successful CD, 'Wealden Brass At The Movies', Wealden Brass has recorded a second CD, "Wealden Brass – Unforgettable Brass Band Favourites". Production has started and CD's are anticipated to be available May 2018. Tracks comprise well known themes and tunes True & Trusty, The Lone-arranger, Unforgettable, Zambezi, Breezin' Down Broadway, Star Lake, Make You Feel My Love, Bandstand Boogie, Frolic for Trombones, Journey Through America & the ever popular Wealden Brass signature tune, Sussex by the Sea!
If you wish to pre-order a copy of "Wealden Brass – Unforgettable Brass Band Favourites", please contact John Briggs via email at wealdenbrasscd@ivhern.co.uk, leaving your name and contact details Alternatively, when available, we will bring a few copies along to our events, available for sale at £7.00 during the interval or at the end of the concert. (See upcoming performances or follow this link.)
Wealden Brass At The Movies (CD – Sold Out)